Want to be part of a creative, growing and dynamic team? Do you believe you have what it takes to add to our success? Are you a person that makes things happen?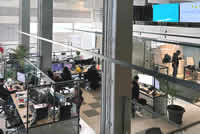 If your answer is 'Yes', we want to talk to you. Dynamic Works provides an open and fun culture that uniquely talented technologists find rewarding.
We pride ourselves in blending a high degree of autonomy with the support and collaboration you need to do the job. We value unique thought, creativity and exceptional problem-solving skills in all our team members.
Come show us what you have to offer and we'll show you how to succeed as part of an exciting, growing team. on our competitive advantage to our customers, delivering real value and bringing growth to their business.
The Project Manager will be responsible for the successful execution of specific FOREX projects, ensuring these projects are on time, on budget, within the preset quality standards and within scope.
Dynamic Works is looking to hire Web Applications Developers for its offices in Cyprus.
The Head of Quality Assurance will be responsible for the thorough testing and QA of the company's products and solutions as well as leading the QA team.
The Quality Assurance Engineer will be responsible for identifying, reporting and eliminating defects for our products.
Dynamic Works is looking to hire a Database Developer for its offices in Cyprus.
Dynamic Works is looking to hire Customer Support Officers for Nicosia - Cyprus Headquarters.
Who is Dynamic Works and why is working for us more than just an experience? Dynamic Works launched in 2003 and quickly grew into an award-winning, internationally recognised Unified Online Business Solutions Provider, creating a host of websites, CRM and web applications for the Financial Services Industry, the Republic of Cyprus Government, and for a host of other verticals for start-ups and highly influential international brands. Dynamic Works is headquartered in Nicosia, Cyprus, and we also have got offices in Limassol, Cyprus, and London, England. Now that you know we're a serious Unified Online Business Solutions Provider that's going places, we think it's ...