Our multi-skilled team always delivers on best-practice!
Dynamic Works has been working in the field of software development since 2003. Our multi-skilled team has taken part in hundreds of web development projects and is able to provide you with innovative, trustworthy web applications to compliment your most demanding business ideas.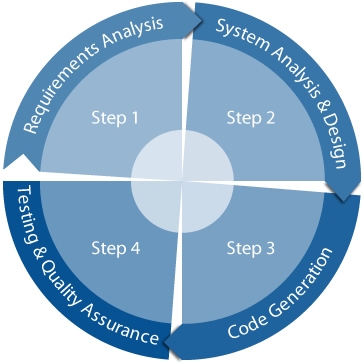 Web Development Life-Cycle
Our web development methodology provides our clients with solutions that not only meet the project objectives but also set industry standards. Innovative ideas are as important as the web development process - and both are key to the success of every project..
Requirements Analysis
Our Software Development Team begins with a feasibility study in order to get a better understanding of your business requirements. The requirements gathering process is intensified and focused specifically on software. The essential purpose of this phase is to understand the real needs of your business and the basis of your website.
System Analysis and Design
System Analysis and Design is a crucial step in the development life cycle. The requirement specifications gathered from the first phase are carefully reviewed, the overall structure of the system is defined and it is here that the logical system of the product is developed.
Code Generation
The coding phase starts where the design must be translated into machine-readable form.
Testing and Quality Assurance
Once the code is generated, the testing begins. Different testing methodologies are available to unravel the bugs that were committed during the previous phases. Dynamic Works has its own testing tools that are tailor-made for our own development operations. Lastly, the bugs are fixed and the application is tested to ensure that it meets the project's requirements.
Thinking of a new project? Let's talk!