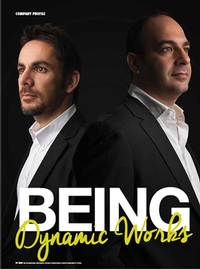 Fuse scientific adroitness associated with technological advancements with the art of seamless client service; develop a suite of solutions aimed at enhancing business practice; and pursue a growth strategy poised to catapult your name and services worldwide, and what do you get? Proof that being dynamic works when aspiring to establish a company as being a sustainable leader in its field, and an innovative force in driving Cyprus' online revolution.
Angelos Gregoriou, CEO, and George Georgiou, Managing Director, Dynamic Works, give Gold an nsight into the intricate workings of the company.
Blog
posted 29 October 2015
All you need is a Google Account!!!
posted 29 July 2013
Before the global expansion into laptops, tablets and smartphones, designing for the web used to mean designing for a computer. Now it means designing for anything with an internet connection.
posted 09 July 2013
Just think of your potential customer. What is he likely to do when he's got some time to kill? Do some research on his phone perhaps? And what if that research leads him to your website? ...