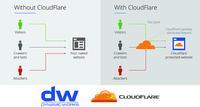 Dynamic Works is proud to announce that it is updating its security offerings through a partnership with CloudFlare to deliver improved website performance and more secure Internet Content to its clients.
Dynamic Works Designs and Develops Digital Experiences by utilizing a blend of years of extensive expertise in Web, Intranet, Extranet, Mobile Applications, CRM (Customer Relationship Management), Digital Marketing, and Social Media Marketing. Dynamic Works is now pairing its own cutting edge services with CloudFlare's next-generation cloud-based performance, security and availability platform. This means that DW's customers will experience a faster and more secure word-wide web performance, substantially higher uptime and improved Search Engine Rankings. They'll have greater options when it comes to capabilities like web application firewall (WAF), advanced DDoS protection, content delivery network (CDN) and Anycast DNS.
Dynamic Works will offer CloudFlare at two service levels for its customers:
Security Basics level includes deployment and management of CloudFlare's global Content Delivery Network (CDN), standard DDoS protection, PCI complient WAF (Web Application Firewall), Anycast DNS, SSL (Secure Sockets Layer), threat blocking and front-end optimizations.
Advanced Cloud Security level adds advanced DDoS protection and custom SSL certificate uploads.
Angelos Gregoriou, CEO of Dynamic Works said, "Our goal as a company has always been to understand our customers' individual needs and help them reach the next level for their business, by providing extraordinary solutions at an affordable rate. Being the first CloudFlare in partner Cyprus will help Dynamic Works' Cyprus-based customers to reach the next level for their business and to have faster websites, online shops and web applications with higher availability, higher search engine ranking and improved security, which is critical as cyberattacks continue to be top-of-mind for companies doing business on the web."
"CloudFlare is on a mission to build a better Internet. Our solutions are designed to equip a great company like Dynamic Works with the necessary tools to offer an even faster and more secure environment for its customers with no need to add hardware or install software," said Maria Karaivanova, head of business development at CloudFlare. "We are excited to have our first partner in Cyprus and worked together to optimize our technology to best address their unique customer needs."
For further information about Dynamic Works and CloudFlare offerings, call 22 427900 or send us an enquiry.